Originally published in The Province by Sean Sullivan, 26th September 2011.
Wrongful Deaths: Group rallies for right to sue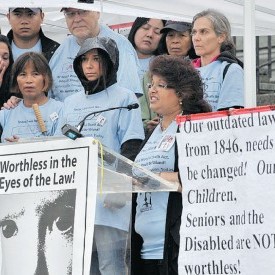 When the Cadillac Eldorado smashed through the crowd of teens at the bush party, Heidi Klompas was hit head-on, her body flipping up onto the hood, rolling across the car and landing with a thump in the wet mud.
Beside her lay another 17-year-old girl, dead.
After that terrible accident in Stokes Pit on Sept. 13, 1997, Heidi entered the hospital with nothing more than two badly broken shine bones.
But three weeks and many complications later, she was dead.
Fourteen years on, Catherine Adamson is still haunted by her daughter's death, which she says was ultimately at the hands of doctors and nurses, not the drunken teenage driver.
Adamson was one of dozens of people who gathered on the steps of the Vancouver Art Gallery Sunday to rally for a change to B.C.'s Family Compensation Act.
Because Heidi earned no income and did not provide for dependents, her mother had no way to sue for a possible wrongful death, and no way to legally determine who or what is to blame for Heidi's death.
Investigations by the coroner's office and the children's commission (the latter of which was abolished in 2002 by the B.C. Liberals) found Heidi died of medical errors.
But when Adamson asked her lawyer about the next steps after Heidi's death, she was told there were none.
"My lawyer told me the cost of taking two hospitals and a handful of doctors to court to prove wrongdoing would cost hundreds of thousands of dollars in legal fees, while the Family Compensation Act would give us maybe $20,000 for the death of a child," she said.
Most people can't afford that kind of court case just to prove a point, she said.
"A successful lawsuit is proof that they did something wrong," Adamson said. "Without an admission of guilt, there will be no changes in how doctors and hospitals do things."
Legislation drafted by advocates has been sent to a number of MLAs, though none have yet declared their support.
Adamson chose to fight for change through a self-published, meticulously researched book, Heidi Dawn Klompas: Missed Opportunities, which chronicles Heidi's death and its aftermath.
"Heidi was a big advocate of telling the truth and being fair," Adamson said. "This law is really unfair, so I wrote the book investigating it to tell people what really happened, because we never had our day in court."
(Click PDF to enlarge original article)