Originally published in Vancouver 24 Hours by David P. Ball, 23rd March 2014.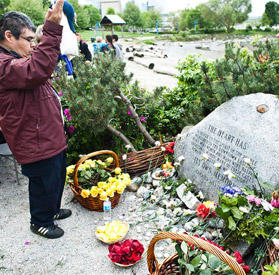 Lawyers are calling on B.C. to reform its wrongful death laws in the wake of a new $50,000 fund established for each child of missing and murdered women, including Robert Pickton's victims.
While several family members decried the Tuesday announcement as "pennies," undervaluing their lost loved ones, the figure is the maximum available under the current Family Compensation Act.
It allows children to pursue compensation in court, but restricted to "loss of affection" and financial support their late parent would have provided.
"There needs to be a change in the law to provide access to justice for all individuals," said lawyer Don Renaud, founder of the Wrongful Death Law Reform Group.
"None of them are entitled to compensation as a result of wrongful death because we've got old, inadequate legislation."
The former Trial Lawyers Association president called for a Wrongful Death Accountability Act allowing courts to determine compensation for family members' untimely loss.
B.C. is the "worse of a bad lot" across Canada, Renaud said, with Alberta granting $75,000 "off the bat" for a loved one's death and rising from there. Ontario allows claims for "loss of companionship," he added, thereby including deceased children or elders.
An unattributed emailed statement from B.C.'s justice ministry said it was undertaking an "active review" of its wrongful death law.
"We are carefully considering the next steps," said the statement. "There are diverse and opposing views, often strongly held, on all sides of the debate with respect to this area of the law."