You are cordially invited to attend the 2nd Annual Mothers for Justice Memorial Walk on May 13th, 2023, 1PM PST at McBride Park, 3350 West 4th Avenue, Vancouver, British Columbia.
You'll be walking in solidarity with a group of wonderful and strong people united in advocating for a better future for British Columbians.
A future where British Columbia is no longer the last remaining place in the developed world yet to modernize its 177-year-old wrongful death legislation.
Joining us at McBride Park at 1PM sharp will be several families speaking who've been affected by these archaic laws, members of the volunteer-based BC Wrongful Death Law Reform Society, and earnest community leaders who've taken a stand politically in support of this critical human rights work.
Thereafter, united as a group, we'll be walking 15 minutes to Premier David Eby's constituency office where we will place upon it a photo of our wrongfully killed loved one with a rose as a ceremonial act to make our voices heard. Eby as the Premier of British Columbia is the politician responsible for this legislation.
Media will be in attendance for the event.
This will be a peaceful and respectful memorial walk to bring dignity and reason to this cause.
Get involved and take action as follows:
#1 To show your support while in attendance you can bring a rose and make a sign. 
#2 If you wish to help promote the event you can invite your friends and family to the Facebook event here.
#3 If you would like to start a fundraiser, or pledge your support for the event through a donation, you can do so here. 
#4 You can also download the below materials to post to your social media:
Social Media Story Banner (for Instagram Story):
Social Media Post Image (for Instagram Post):
Social Media Post Image (for Facebook post):
Social Media Post Image (for Twitter Post):
Social Media Banner Image (for Facebook Cover):
Social Media Banner Image (for Twitter Header):
Full-Size Poster to Print:
QR Code to add to DIY Posters:
Collage from the Public Service Announcement:
Media Kit – Screenshots from the 1st Annual Mothers for Justice Memorial Walk in 2022:
Media Kit – In Their Name logos
(Click the image to view full-size versions)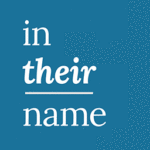 Location: