Told by her mother, Tara Stroup
On Friday, July 26th, 2019, our lives were completely shattered. I received a phone call at our cabin, just north of Princeton, from my daughter-in-law Sarah that would change our family's life forever. Our 23-year-old daughter Madeline, her boyfriend Hayden Turcotte, and a third friend, Tyrell Gait, had been on their way to pick up a fourth friend, and they had all been heading up to meet us at the Stroup family cabin in Missezula Lake for the weekend.
To our utter horror, Madeline and her friends had been involved in a serious daytime car crash on Sumas Prairie in Abbotsford, BC, between the pickup in which she was the front-seat passenger, and an SUV driven by an elderly man in his 70s. The other driver had been speeding and had run a stop sign, so he was clearly at fault. The first person on the scene was an off-duty paramedic. After the ambulance arrived and assessed the situation, Maddy was airlifted to Royal Columbian Hospital in New Westminster, BC.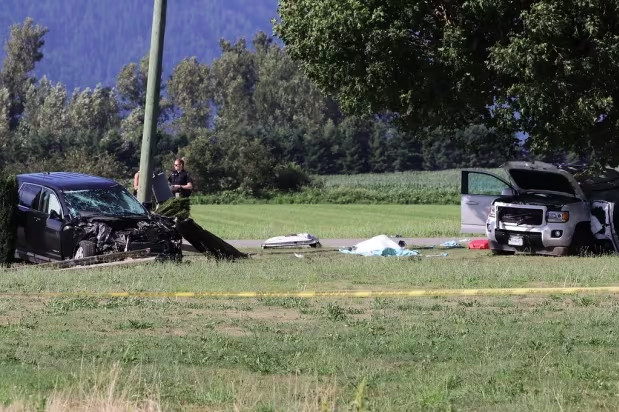 My husband Dean and I rushed to the hospital where our family and friends were waiting (this was five months before COVID started), only to learn that Hayden, Madeline's boyfriend, had not made it. Disbelief, sorrow, anger and shock followed. Such a young life – taken so soon.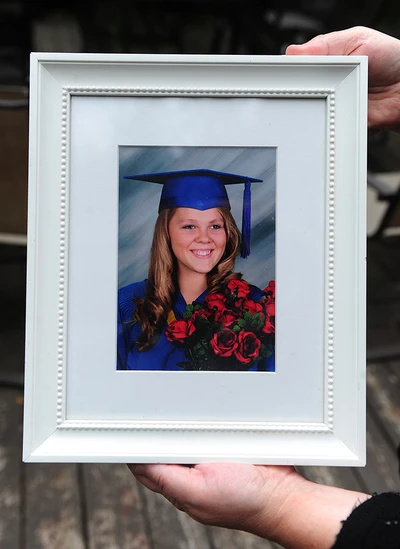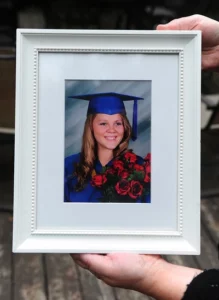 Madeline, however, was rushed into surgery immediately, as her condition was critical. She was in a coma. A neurosurgeon performed an operation to relieve the swelling in her brain, which had suffered the brunt of the impact. Later, in the Intensive Care Unit, we were told to stay quiet and not to touch her or disturb her, as they were keeping her as cool as possible to relieve the swelling in her brain.
The next four days were torture, as we prayed that her life be spared, all the while not being able to hold her or touch her in any way. There were highs and lows throughout this time, but ultimately there was a meeting with the doctor, who told us that she would not make it. In that moment of utter grief and despair, we decided, as a family, to donate her organs so that others could live. We felt strongly that she would want this, being the generous and loving young woman that she was. The next day we were surprised to learn that our beautiful girl had decided, at the age of 21, to become a donor and had already completed the registration process a couple of years prior. This moment brought us some relief and confirmed our feeling that we had done the right thing.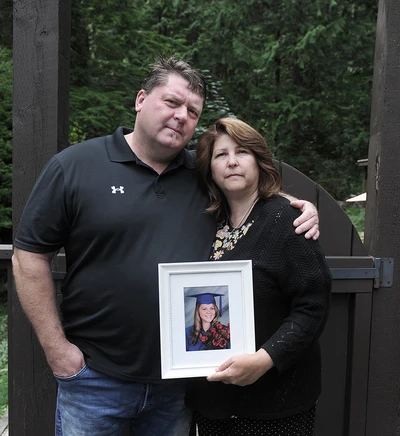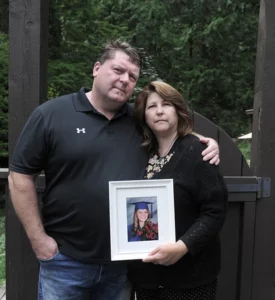 Madeline was kept alive for two more days, in an induced coma, to ensure that her organs would still be acceptable for donation. My husband stayed with her throughout her last two days, finally leaving her as they took her away for surgery to harvest the organs. Because of Maddy's generosity, five people were given a new lease on life. The organs that were harvested were her heart, liver, kidneys (which helped two people), and islet cells, which were transplanted into someone who had Pancreatic Insufficiency.
Our family has always been exceptionally close, sharing our lives with one another and taking great joy in all that life offers. The death of our youngest child impacted so many people in so many ways, some of which we will never know. Her three older siblings, parents, grandmother, cousins, friends, co-workers, and family friends will never forget the compassionate, thoughtful, and vibrant young lady who is no more.
It was within a week of Madeline's passing that a representative from ICBC paid us a visit. Since we had never been through anything like this before, we had no idea of the reason for his visit. After I had offered him a beverage, he sat down across from us at our kitchen table. We were worn out from crying, going through Madeline's personal items, and organizing a funeral when he matter-of-factly informed us of the Family Compensation Act and how it impacts the way that ICBC conducts its business.
Although Madeline had had employment income from her job as a mental-health care aide, because she had no dependent children of her own, we were not entitled to compensation of any kind, even though she had had car insurance. This meant that we would not be entitled to anything, except a small amount of money for funeral and burial costs.
My mind was foggy with grief, and I did not understand what he was saying, but my husband did and asked him to leave immediately. I remember the ICBC representative leaving, and also my husband being upset. It was not enough that our daughter was now gone. We had just found out that even though the driver had been speeding and had run the stop sign, ICBC had a loophole in the law (dating back to 1846) that prevented us from holding the driver accountable for Madeline's death. Not only that, there would not be any compensation available for the unsurmountable loss of her love, care, guidance, affection, companionship that we would have otherwise shared for the rest of our lives. I was dumbfounded and felt the injustice of it all rise up in me.
We cannot ever get our daughter back. It is unbearable to try to come to terms with that. However, the slap in the face from our own vehicle insurance company has left me feeling like Madeline's life had meant nothing. Someone who was negligent and reckless with his vehicle killed two young people and seriously injured a third person. He was given only a small fine for running a stop sign and cited for a traffic violation. Where is the justice in this? What kind of message does this send to our citizens? I find it offensive and incomprehensible that human life is worthless in our province and that this can happen in today's society.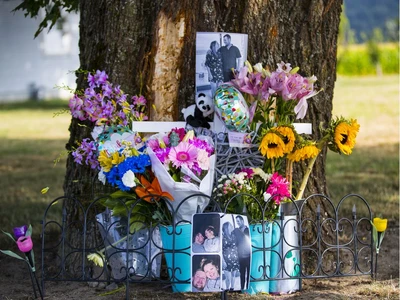 We want our voices to be heard and would appreciate any support in this matter. The campaign of reaching out to the MLAs seems like the best way to stop this from happening again and ensure that others with similar circumstances do not go through this senseless process.
Media Coverage
Global News: Daughter of Burnaby firefighter becomes second victim of fatal Abbotsford crash
The Chilliwack Progress: Daughter of Lower Mainland fire captain taken off life support
CBC News: Death toll from Abbotsford crash rises to 2 as victim taken off life support
Vancouver Sun: Young woman with an 'old soul' gave life to five after fatal crash
Global News: Victim in Abbotsford crash helps save 5 lives through organ donation
Vancouver Sun: B.C. parents seek the right to sue for wrongful death of children
The Province: B.C. parents seek the right to sue for wrongful death of children
Times Colonist: B.C. parents seek the right to sue for wrongful death of children