Hon. Mitzi Dean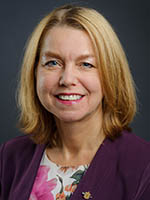 Mitzi Dean, NDP MLA for Esquimalt-Metchosin and Minister of Children and Family Development, has presently been silent with respect to her position on The BC Wrongful Death Law Reform Society's call for legislative reform of our discriminatory wrongful death laws, which unlike every other province in Canada have yet to be modernized.
On April 2, 2020, we sent a letter to Mitzi Dean, in her capacity as Parliamentary Secretary for Gender Equity, advising on our wrongful death laws, the gender safety gap in motor vehicle accidents, and the discriminatory nature of the new ICBC No-Fault Insurance fraud.
We received no response from Secretary Dean.
She then went on to vote in favour of the passing of the victim rights diminishing legislation known as "No-Fault", which the BC NDP have labelled under the Orwellian name "Enhanced Care Coverage".
Further, under our current wrongful death legislation, only those who had an income + dependants have worth under the law, leaving many, especially children, seniors, and the disabled worthless when they are killed by the neglectful, or wrongful actions of another.
Please petition Mitzi Dean now »