The Province
By Susan Lazaruk
Compensation Act: Grieving relatives rally for change to aging law that denies them right to sue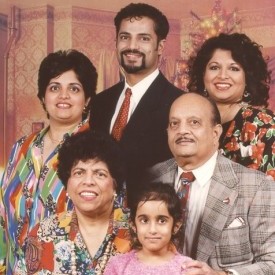 Theresa Pereira was a healthy, active member of her community who looked and acted much younger than her 71 years when she died in hospital from an eye infection following laser eye surgery for cataracts.
"She was really, really healthy [before the operation] and then she was gone," said daughter Beatrice Pereira of Surrey. "I was bitter. I was very angry. It was a very hard time for our family."
Five years later, the family is still struggling to come to terms with her death in the very place they sent her for help – still uncertain why she died, whether her death could have been prevented, or whether other similar deaths will occur.
The family were shocked to discover that because Theresa Pereira didn't earn an income and provide for dependents, there was no way under B.C. law to sue for a possible wrongful death. That also meant no judicial probe to determine what went wrong during her treatment.
"I did actually try to find out what happened through the College of Physicians and Surgeons," Beatrice Pereira said, referring to the regulatory body that investigates complaints against doctors.
But it's not the same as having an advocate and cross-examination as they would in a court case, she added.
"I knew I wouldn't get her back but I really wanted to find out what happened," said Pereira. "For me, it wasn't about the money."
On the surface, the push to reform the wrongful death law in B.C. is about money, or so-called non-pecuniary damages, but advocates say it's more about accountability.
The Pereiras are among three dozen families who want to change a B.C. law based on legislation that originated in the United Kingdom 165 years ago. The law disallows damages for lost love, guidance, care, companionship and affection.
There are two rallies to urge B.C. to change its Family Compensation Act planned for today at 2 p.m. One is at the Vancouver Art Gallery and the other in Kelowna, where Stew Tuningley, a popular 74-year-old, was killed in July by a truck while doing roadside cleaning as a Westbank Lions Club volunteer.
Advocates of changing the law say B.C. is among the last provinces in Canada to allow for the suing of non-pecuniary damages for wrongful deaths.
"If we're not last, we're tied for last," said Ben Doyle of the Trial Lawyers Association of B.C., which has drafted a proposed overhaul of the law that it calls the Wrongful Death Accountability Act.
Pereira is speaking at the Vancouver rally, staged by the Wrongful Death Reform Group, which she says represents 35 families, up from six when she joined in 2006.
Among them are the parents of Heidi Klompas, who died in hospital aged 17 after her legs were broken when she was struck by a car at a Stokes Pit bush party in 1997; Laura Jane White, who died in hospital at age 15 while being treated for leukemia; and Dallas John Hein, who was 25 when he was killed by a drunk driver.
Hein's parents suffered the cruel irony of learning they could have collected on ICBC's third-party liability insurance only if their son had survived the crash.
Vancouver trial lawyer Don Renaud said families "have a right but no remedy" to pursue answers in a wrongful death. "A right without a remedy is no right at all," said Renaud.
"If people aren't penalized, nothing can happen," said Melissa Jarabek, whose mother died in a care home because of a nurse's error.
"Somebody needs to be held accountable. There's no accountability. It's a slap on the wrist and there you go."
Judith Jarabek-Gray of Abbotsford died in January 2010 after staff let the batteries on her ventilator run out, leading to her death, the Fraser Health Authority has admitted.
The care home changed procedures to prevent a recurrence, but Jarabek, who's on the board for the Wrongful Death Reform Group, said there isn't the same imperative for change in the health system unless there are financial consequences.
Attempts to change the Family Compensation Act, which covers wrongful deaths, date back at least until 2007 when then attorney-general Wally Oppal promised to act. More recently, former Liberal attorney-general Mike de Jong seemed keen to make changes, according to Doyle.
B.C.'s interim attorney-general, Shirley Bond, said in an email that the government continues to review the law and noted that MLA Ralph Sultan tabled a private member's bill.
"We continue to consider next steps that may include legislative changes," the email said.
Sultan said he tabled his bill – a copy of Alberta's law, which caps payments at $75,000 – on the last day of the last legislative session and will likely have to retable it when the legislature re-opens on Oct. 3.
The Trial Lawyers Association and the families said Sultan's bill is inadequate at best and insulting at worst, particularly because damages are capped at an amount that is not much of a deterrent.
"To me, that would almost be a slap in the face," said Pereira, who said most of the reward would be lost to legal fees. She added that it's unlikely she could find a lawyer to take her case because of the cap.
She also said that worries over courts awarding millions of dollars like they do in the U.S. are just fear-mongering.
Doyle didn't sound optimistic that Sultan's bill would make it to second reading and eventually into law.
"It's our understanding that it's not going anywhere because it doesn't have the backing of the minister," said Doyle.
Sultan himself said he has a lot of work to do to make it to second reading. He said ministry staff told him insurance companies opposed the changes.
Lindsay Olson of the B.C. branch of the Insurance Bureau of Canada said the last time the industry was consulted on any changes to the Family Compensation Act was in 2007, when it responded to specific proposals in a government green paper.
She said she couldn't comment on the proposed new law by the Trial Lawyers Association. She added that insurance companies support the notion of adequately compensating claimants.
The Province – Sept 25 2011 – It's Not 1846 Anymore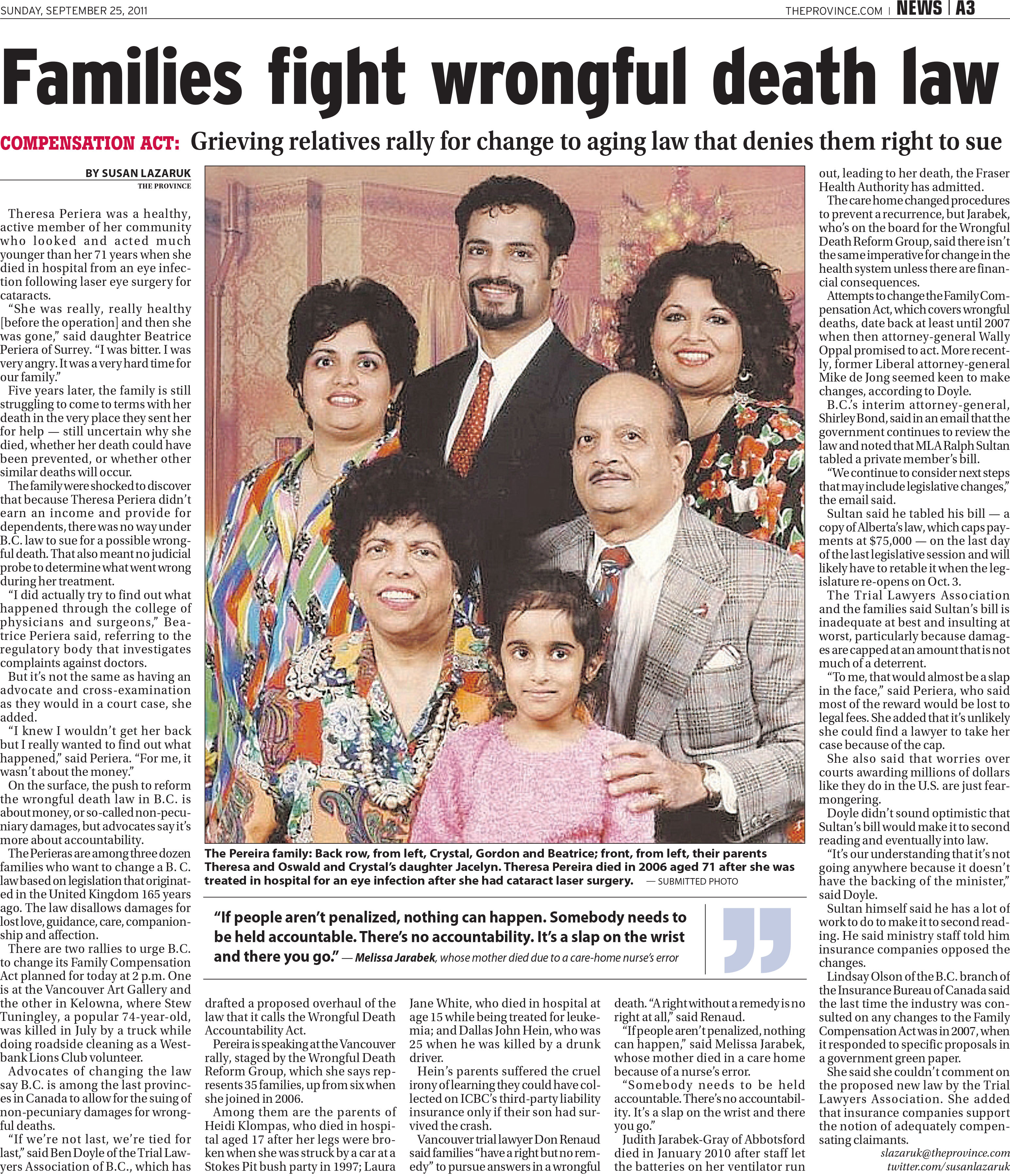 ---
---
About the BC Wrongful Death Law Reform Society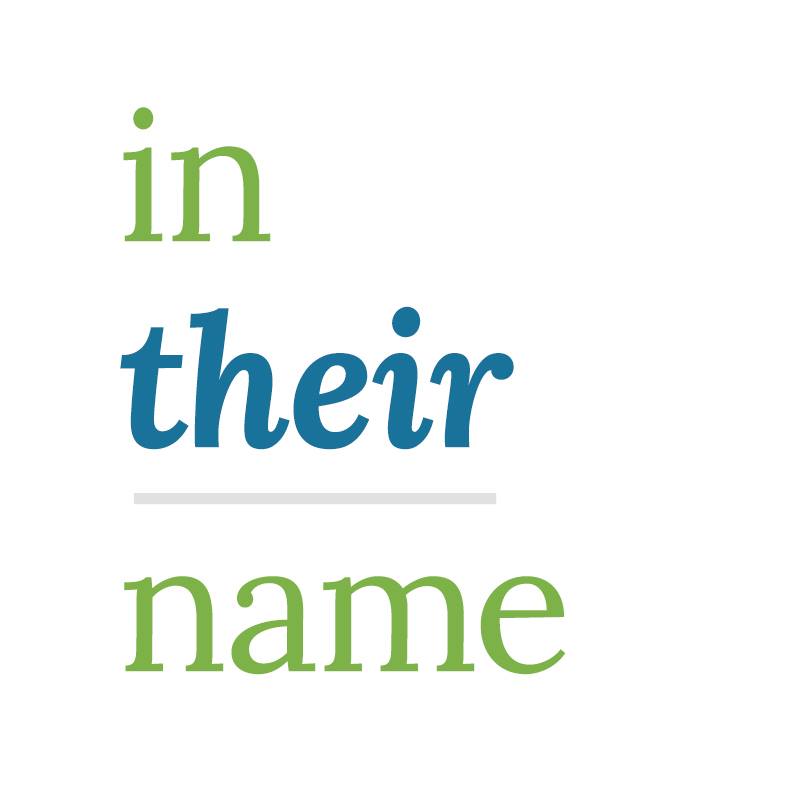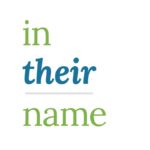 'In Their Name' is the campaign of 'The BC Wrongful Death Law Reform Society' – a BC registered non-profit organization comprised of volunteer families who have lost a loved one to wrongful death in BC and were denied access to justice. In response to the biggest human rights issue facing the province today, our goal is to modernize British Columbia's antiquated wrongful death legislation, which predates confederation (1846). Under current legislation, the value of a human life is measured only by the deceased's future lost income, so long as they had dependents.
As a result of the province's antiquated law, access to justice has been denied to the families of the wrongfully killed who do not meet this discriminatory criteria. This has affected especially vulnerable groups, namely children, seniors, the disabled, and anyone without dependents when they are killed by the negligent or intentional acts of another.
BC is presently the last of all the provinces, yet to have undertaken this critical legislative modernization to allow for dignity, value, and protections for all its citizens under the law.
When it's 'free' to kill in BC, wrongdoers are not held accountable. This lack of general deterrence holds the province back in terms of incentivizing innovation of safety measures and protocols to prevent wrongful deaths in the first place.
---
Here's How You Can Get Involved…
The Attorney General of British Columbia, Murray Rankin, is the Minister responsible for the 'Family Compensation Act' – the guiding piece of legislation that the civil courts must follow in cases of wrongful death. Minister Rankin receives feedback from the regional 'Members of the Legislative Assembly' (MLAs) and follows orders from the Premier, David Eby (the former Attorney General who is also very familiar with this issue).
Reform is presently at a standstill, as the BC NDP government does not presently view access to justice for the surviving family members of the wrongfully killed as a priority in this province. This is despite the fact that the families behind our Society have been fighting for modernization for over two decades. And despite the fact that all other provinces, including the Yukon, have already modernized in most cases long ago.
The only way to move this forward is by creating massive public awareness and outcry for legislative modernization. Only under the scrutiny of the public and the media will our politicians be forced to take this necessary, and long overdue action.
How many more people will need to die from the same preventable wrongful actions before our politicians will do their job?
#1 Kindly consider supporting the public awareness advertising efforts of our volunteer led Society by Donating Now »
#2 In less than 30 seconds, with our automated tool you can Petition Your Local MLA »
#3 Share this story with friends and family on social media.
#4 Follow us on social media to stay updated: Facebook, Twitter, Linkedin, Instagram
We appreciate your support at this critical time!